Solid Steel Padlock D-65 AD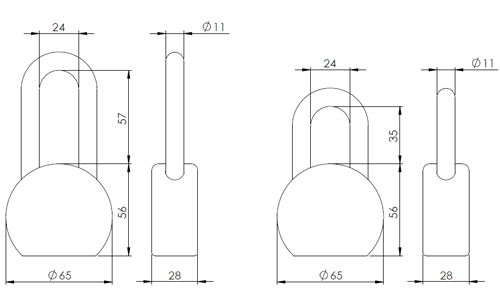 ---
Professional grade of solid steel padlock with short length removable shackle through hardened treatment.
Material: Steel hardened shackle and lock body with cupronickel material keys.

Technology:
The lock body is designed in close to round shape. It is integrated with steel material to be
one piece in shape.
There is one steel made plate integrated inside the lock body resisting to drilling
destruction. The key is designed with two equiconcave points on surface to avoid copying.
With precise CNC manufacturing it is designed with 4 double pins layout with 20,000 choices of key numbers combinations.
The shackle dimension: diameter 11mm, vertical shackle clearance 30mm, horizontal shackle clearance 24mm.
The shackle is processed with hardened treatment resisting the drilling and sawing destruction.
The latch is designed with steel-made pin to increase the tensile strength to reach 2,000 KG above anti-destruction strength.
Provided with 3 pieces of keys made of cupronickel material, which is three times stronger in the hardness level than that of normal material. It has strong ability to prevent wearing.The material cost of cupronickel is also three times higher than that of normal material such as brass etc.
Applications: Metal/ wooden cabinet, warehouse door, transportation, heavy duty purpose.