Side Opening Gear Shift Lock A103 (D-01)
Side Opening Gear Shift Lock A103 (D-01)
Product Model:A103
We are professional gear shift lock supplier and provide high quality gear shift lock to meet customer's needs.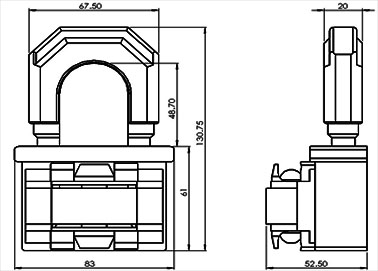 Features:
Easier than other types of Gear Shift Lock to operate, and takes little space to install.
The cylinders are produced by CNC machine with high precisions.
The outer cover is designed to fasten with steel ball to the placement stand of U type shakle. It is steady and firm. Easy to operate.
Installation:
It must be combined with specific shaped fastened iron plate.
For Automatic transmission car it is fastened on Parking gear. For Manual it is on Reverse gear.
Suggested the installation be done by technical staff to ensure accurancy.
Suggested the installation be done before new vehicles from car factory handed to customers.
Key : Equipped with 3 pieces of key and one Pin Number Card
Cylinder : For 6 single pin there are 12,500 combination choices (general) / For double pin 800,000 combination choices (advanced).
Shackle : The steel material with hardened treatment, is capable of anti-sawing and anti-cutting. The standard length is 115mm. Other sizes are available to order.
Latch : Metal alloy material with hardened treatment, is capable of wear-resisting and anti-destruction.
Iron case : The shovel part with harden treatment is capable of welding reinforcing and anti-destruction.
Nuts : two sets of anti-dismantle nuts and one set of common nut.
Logo : Logo can be customized.
Package : 20sets / ctn
More Gear Shift Lock Information