Folding Lock B110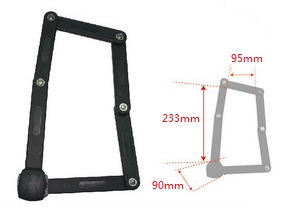 ---
Easy use for all kind of bicycle and folding bicycle, materials are compliant with RoHS Directive.
Dimension: 195(L) x 90(W) x 40(H)mm
Weight: Steel 1.2kgs / Steel alloy1.2kgs
Material: Bars are avaliable in steel and alloy steel, stainless steel rivet, PP coated
Features:
․ resists bolt cropper, tile cutter, hacksaw & hammer attack
․ Safety against cutting, knocking, drilling, sawing and protection of the anti-corrosion coating.
․ 5-disc locking mechanism. Protection of the sliding dust cap; lifespan extension of the lock cylinder.
․ plastic-coated as protection against scratching. Polypropylene coating, unbreakable. Abrasive anti-slip blasting on the surface. Protection for your bicycle to avoid scrapes; beautiful design for the lock body.
Applications: Folding lock for bicycle, motorbike use